There will be no evenings or Saturday urgent care until further notice.
The Coronavirus (COVID-19 or 2019 novel coronavirus) was initially identified as the cause of a respiratory illness outbreak in Wuhan, China in December 2019. Most of the severe illness and deaths have occurred in elderly patients or those with underlying medical conditions.
Office Hours & Closings
If you or your children are sick, please call ahead to our office at (720) 284-3700 before coming into our office. Our Triage team and providers have been diligently working to screen our patients so they can be cared for quickly and appropriately.
Because our schedules are temporarily changed, PLEASE DO NOT SCHEDULE VISITS THROUGH MyChart UNTIL FURTHER NOTICE. Also be aware that visits may be with providers that you don't normally see. Our triage nurses are available as before.
Closings & Procedure Changes
Saturday walk-in urgent care at our Wheat Ridge location is cancelled until further notice.
All evening hours are also cancelled until further notice.
We will not be accepting Walk-ins.
Please DO NOT bring any extra people to the visits, example – other siblings or family members.
Sick Visits will all be seen at our Wheat Ridge location
There will be multiple types of visits. Each has specific criteria, deliberately created to keep our patients and families and staff as safe as possible during the coronavirus outbreak. Covid-19 testing will be done only as deemed necessary by provider and following specimen collection recommendations.
Office visits for "fever/cough" and "cough" patients who are sick enough to be seen in the office. They will enter separately and be seen in our back hallway.
Standard "routine" sick visits for patients needing to be seen, but without symptoms concerning for COVID. These patients will check in through our main waiting room.
Drive-up Tent clinic in our parking lot (weather permitting). This is for select simple sick visits. Our triage nurse or scheduler will decide if Tent clinic is appropriate for your child's visit.
Telehealth or virtual sick visits
Depending on the complaint, we may offer either a phone visit or virtual visit through Zoom to allow a visit from the comfort of your home. Our triage nurses will determine if this is an appropriate visit and, if so, schedule it. They will need your email address so the provider can invite you to the Zoom encounter. Such visits will potentially be appropriate for patients with coughs (to assess respiratory status visually) or rashes and certain other complaints. These visits will be billed like office visits. Remember we are doing them to try to avoid bringing your child into the office. If the provider feels your child warrants in-person evaluation (for instance, we are worried about their oxygen level due to significant breathing difficulty), we will bring them into the office for a continuation of the same visit. You will only be billed once for this.
Telehealth or virtual visits are available with your PCP for med checks, asthma checks, ADHD evaluations, mental health evaluations, autism evaluations, and behavioral concerns.  Call to schedule these.
Well Child Checks/Physicals and newborn visits will all be seen at our Littleton location
This is to keep healthy children separated from sicker kids. All of these visits will be screened the day before and upon arrival for any symptoms such as cough in either patient or parent. Any patient/parent with symptoms will be asked to reschedule their well visit (but can be seen if necessary at the Wheat Ridge office for a sick visit)
Most of these are for infants from newborn visits up to 18 months. They will be scheduled from 8:30-3pm
Check-ups for children 2 & up will be scheduled in the 3-5 pm time period
Newborn visits and newborn weight and bilirubin checks can also be scheduled for a Saturday visit at Littleton
During these unique times and circumstances, be assured we are doing all we can both to maximize our patient and family safety as well as our own staff's safety. We also must be cognizant of utilizing our staff as efficiently and fully as we can. As such, we are paying utmost attention to any concerning symptoms either patients/families or staff may be exhibiting and keeping them away from our other healthy check-ups.
Coronavirus Updates for Colorado
Colorado, including the Denver area, is currently seeing a growth in positive tests (check the CDPHE website for up-to-date statistics). There are likely even more cases in the community that are not getting tested.
State and local public health agencies are working to limit and slow potential spread of this disease. All Coloradans can help by staying informed with reliable sources of information, practicing social distancing, and following our tips below. Stay informed about local developments and advisories on the Colorado Department Public Health & Environment website.
How the Virus Spreads
The virus likely spreads (like many respiratory illnesses such as the flu or common cold) through droplets produced when a person coughs or sneezes. The incubation period (time from exposure to symptom development) is estimated to be 2-14 days. Recovery time from mild disease is about 2 weeks, severe disease more likely 3-6 weeks.
Coronavirus Symptoms and Risk
The disease spectrum ranges from people with little to no symptoms to the very severe illness. Most commonly, patients will have fever, cough, aches, fatigue and breathing issues. Some have headaches or diarrhea. It appears, initially, that 70-80% of those infected will have mild symptoms. Fortunately, for our patient population, it also appears, thus far, that children tend to have milder disease. There are no reported pediatric deaths.
Is there a resource to explain Coronavirus to kids?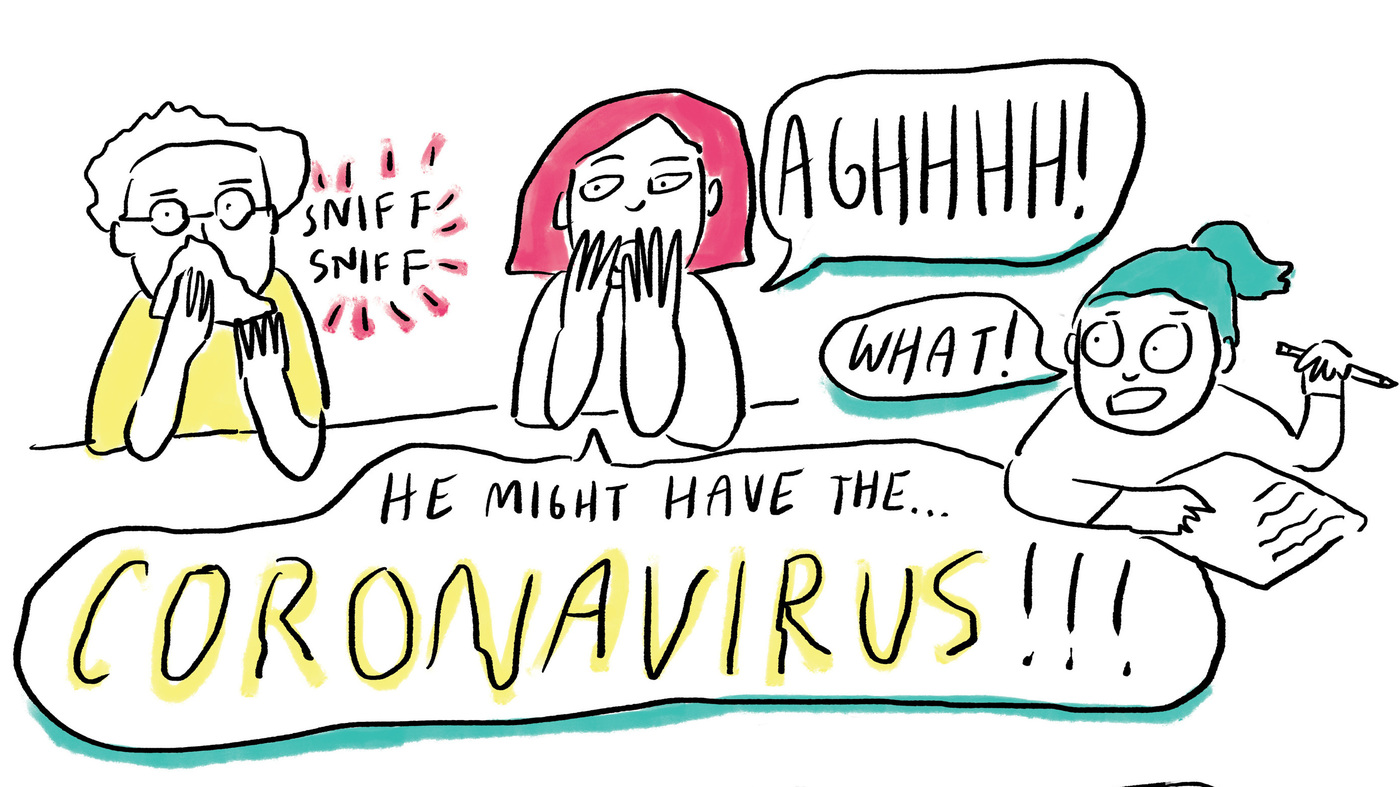 Yes! NPR has a created a comic that explores and explains what the Coronavirus is to children. This comic also helps them understand what they can do to prevent the spread of the virus. You can view the comic here:
https://www.npr.org/sections/goatsandsoda/2020/02/28/809580453/just-for-kids-a-comic-exploring-the-new-coronavirus
Brains On!, a science podcast for kids, did an episode on Coronavirus: https://www.brainson.org/shows/2020/03/10/understanding-coronavirus-and-how-germs-spread-for-kids
How to Talk to Our Kids About CoronavirusThe Academy of Pediatrics & CNN put out a good article on this topic:
https://www.cnn.com/2020/03/16/opinions/telling-my-kids-about-coronavirus-bolduan/index.html
How to Prevent the Spread of the Coronavirus
The best protection is to remain informed and practice standard preventive measures such as good hand washing, avoiding touching your eyes/nose/mouth with unwashed hands, cover coughs and sneezes, and avoiding close contact with people who are ill.
Contrary to many people's perceptions, isolation masks are not recommended nor thought beneficial outside of a healthcare setting.
When the CDC (Centers for Disease Control) or CDPHE (Colorado's public health department) issues instructions, follow them.
If your child is sick with fever and cough AND has traveled recently to areas with high numbers of COVID-19 disease or has been exposed to someone thought to potentially have COVID-19, please inform our triage nurses of that when you call our office at (720) 284-3700.
CDC guidelines for self-quarantine (to be used if waiting on test results or a known positive result):https://www.cdc.gov/coronavirus/2019-ncov/downloads/sick-with-2019-nCoV-fact-sheet.pdf
Have questions? Contact our office or general measures to stay healthy:
General measures to stay healthy: https://www.cdc.gov/coronavirus/2019-ncov/about/prevention.html
https://www.cdc.gov/coronavirus/index.html
https://www.colorado.gov/pacific/cdphe/2019-novel-coronavirus
https://www.childrenscolorado.org/about/news/2020/march-2020/coronavirus/