As many of you are aware, initial COVID vaccines are starting to be available for children between ages 5-11. Kids 12 and older have been eligible for months. We are giving COVID vaccines to all these age groups now in our offices.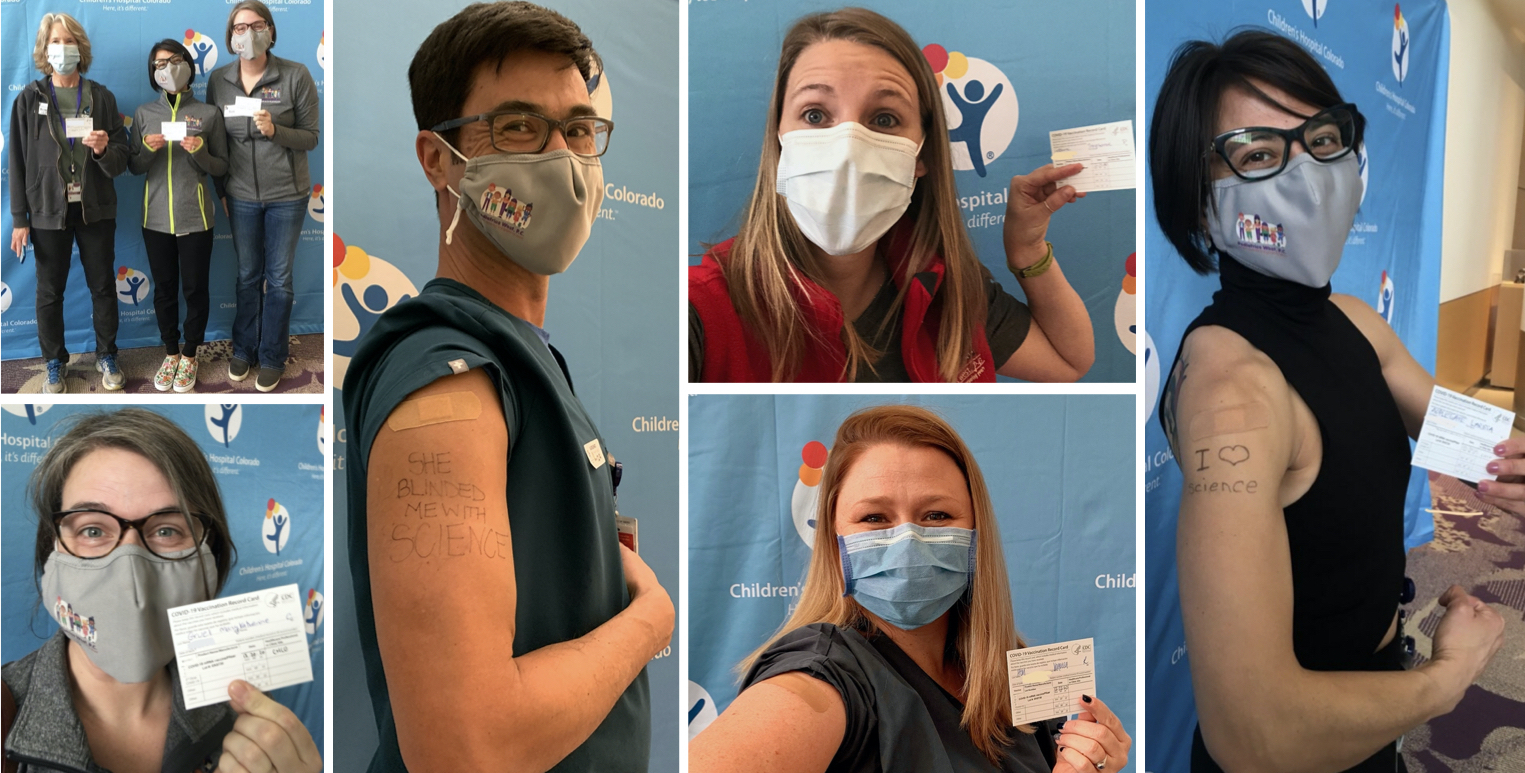 Can my child get the vaccine?
Below we have outlined the information based on age. If you child does qualify to receive the vaccine please be sure to download and complete the COVID-19 Vaccination Consent Form
Children 12 years old and up
In Colorado, children 12 and older are now eligible for the Pfizer COVID vaccine. COVID-19 vaccinations are available at both offices by appointment only. These will be conducted during our well child checks as well as in nurse clinics by appointment. Appointments can be scheduled on MyChart or by calling our office. For information on boosters please see our "Should my child get a booster?" section below.
Children 5 to 11 years old
We have begun administering the COVID-19 vaccine to kids ages 5-11, and we have a COVID vaccine reserved for your child. The Pfizer COVID vaccine has been approved for emergency use in 5-11 year olds by the FDA and has been recommended by the CDC for school-age kids. It is given at a smaller dose (1/3 of the adult dose) with a 2nd dose 3+ weeks later. Pediatrics West recommends getting your children immunized. These are also being given by appointment at our COVID vaccine clinics or at routine well child visits.
Please continue to watch for ongoing updates from our office.
Children 0 to 4 years old
Children under age 5 and over 6 months are now eligible to receive initial COVID vaccinations
What is the COVID-19 Immunization dose for 5-11 year old?
The recommended dose of the Pfizer COVID vaccine for 5-11 yr olds is 1/3 the dose for older kids and adults. This dose difference in not at all based on weight or height or BMI, but entirely based on age. This is no different than other vaccines, for which we don't give a smaller dose based on size, but change doses or formulations based on age only.
Pediatrics West recommends following the FDA and CDC guidelines for immunizing your child against COVID. If they are under 12, we'd use the smaller dose. If they are 12 or older, we'd use the larger dose.
Should my child get a booster?
On September 1, 2022, the Centers for Disease Control and Prevention (CDC) endorsed the Advisory Committee on Immunization Practices' (ACIP) recommendation for Pfizer and Moderna's updated COVID-19 omicron doses designed to offer protection from the original COVID-19 virus AND omicron sub-variants. Pfizer's omicron dose is authorized for people aged 12 years and older. Moderna's omicron dose is authorized for people aged 18 years and older. (Our office will be offering Pfizer only for this booster and not Moderna).
At this time, this Pfizer bi-valent vaccine is only approved for those patients 12 years of age and older. We expect that the age indication will be lowered within the next couple of months and we will notify you when there is any change or new recommendations.
IMPORTANT: The monovalent Pfizer and Moderna COVID-19 vaccines (original vaccine presentations) are NO LONGER authorized as booster doses for people aged 12 years and older. 
Updated CDC clinical considerations:
Omicron boosters are recommended as a single booster dose administered at least two months after either:  
Completion of a primary vaccination series with any authorized or approved monovalent COVID-19 vaccine, or receipt of the most recent booster dose with any authorized monovalent COVID-19 vaccine. 
Everyone aged 12 years and older is recommended to receive one age-appropriate omicron booster dose after completion of any FDA-approved or FDA-authorized monovalent primary vaccine series, regardless of whether they are immunocompetent or immunocompromised. 
People cannot receive an omicron booster without first at least completing a primary vaccine series. 
COVID booster immunizations are now recommended for all children over 5:
Any child over 12 is now eligible for a booster shot in Colorado and should get a booster 5 months after their 2nd shot.
Boosters of the Pfizer vaccine have now been approved for all children 5 and up. They can get a booster any time after 5 months from their 2nd shot.
As a reminder, these vaccines are by appointment only and can be scheduled using your MyChart portal or by calling our office during normal business hours.
Masks are required to be worn in our office for anyone ages 2yrs and older.
Resources
The Science Behind COVID-19 Vaccines: Parent FAQs
Should breastfeeding moms get the vaccine?
Many of the questions we have received are about whether a breastfeeding mom should get the vaccine. There is no "biological plausibility" as to any reason why this would be a problem for the infant, and thus no contraindication to a mom getting a COVID vaccine. It is also felt to be safe for pregnant women (and beneficial in providing protection to their baby once born), but this should be discussed with your OB/GYN.